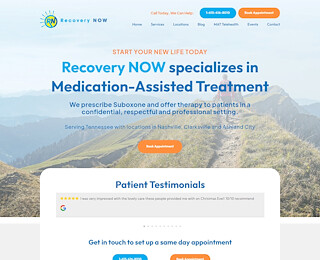 Recovery NOW is a top-rated  addiction recovery center with the best clinicians and a relaxed, nonjudgmental, and professional setting. We promote a safe, speedy, and successful recovery with medication-assisted treatments. We also offer telehealth services at affordable prices.
How We Help Individuals Recover From Addiction?
We are an outpatient rehab with highly effective detox treatment and telehealth programs. Our dedicated clinical staff creates personalized recovery plans for each patient battling addiction and guides them towards sobriety with individual care and attention. Some of the steps involved in our recovery approach include:
Medical Detox – We offer the best medical detoxification treatment using cutting-edge medications like Suboxone, Sublocade, and Vivitrol. 
Behavioral Therapy – We also use behavioral therapies and counseling alongside medical detox to help clients attain lasting success with sobriety. While detox helps alleviate withdrawal symptoms and reduce cravings, psychotherapy and counseling equip recovering addicts with essential survival and coping skills for a sober and more balanced lifestyle moving forward.
Telehealth Services – Following detox and outpatient therapy, we offer the best telehealth programs to monitorour patients' progress after completing the detox phase.
We are an in-network drug and alcohol rehab center for most insurers in Tennessee. As one of the best rehab centers, we have the highest success and lowest relapse rates.
Benefits Of MAT For Opioid Use Disorders
Medication-assisted treatments offer several benefits to individuals battling addiction. For instance, Methadone is a synthetic Opioid and can remain active for 24 hours or longer in the body. It remains active for long periods and blocks the effects of other Opioids. Some of the other benefits of medication-assisted treatments include:
Reducing cravings and minimizing withdrawal symptoms experienced by recovering opioid addicts.
MAT helps decrease your body's tolerance to opioids and stabilizes your mind to focus on recovery. It can restore the chemical imbalances in your brain to their pre-addiction state.
MAT programs offer psychotherapy and counseling alongside medications, which help improve psychological health and behaviors. As one of the leading addiction rehab facilities, we also address co-occurring disorders alongside addiction and teach healthy coping strategies to prevent relapse, manage stress, and handle conflict.
Are There Any Risks To Receiving Medication-Assisted Treatment?
While medication-assisted treatments help individuals battling addiction get clean in a safe, speedy, and painless manner, they also have some downsides. MAT treatments like Methadone maintenance or Suboxone detox programs can be hard to find at an addiction rehabilitation center near you. As these programs are heavily regulated, only specially licensed treatment centers offer medication-assisted programs. You must look for the best rehab centers in your state or city that offer MAT programs.
Secondly, some medications used in MAT programs can cause side effects. Methadone can cause more side effects in some individuals. In some cases, misusing the drug also has led to dependence or addiction. Methadone-assisted treatment can cause side effects like nausea, constipation, frequent urination, sexual dysfunction, and addiction. However, choosing the right addiction treatment clinic with a dedicated clinical team can reduce the side effects and improve outcomes in recovery.
Contact 615-416-8010 to join our rehab for addiction recovery. Recovery NOW is a pioneer treatment center with evidence-based therapies, holistic treatments, and a high success rate. Verify your insurance with us today.