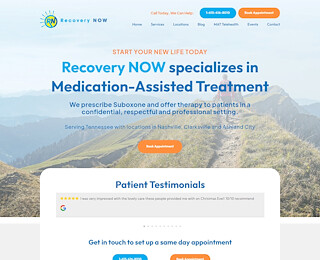 Recovery NOW offers the best medication-assisted treatment for opioid use disorder. As a leading addiction recovery near me, we use Suboxone, Subutex, Zubsolv, Sublocade and Vivitrol, and other cutting-edge medications in a confidential and professional setting, helping our clients attain comprehensive recovery from addiction.
What To Expect In Your Addiction Recovery Journey?
Joining one of the best rehab centers in Tennessee can be a life-altering experience, helping you get a fresh start in life. While you may experience some discomfort in the initial days of your recovery journey, our skilled medical team will provide all the mental, emotional, and medical support you need.
You will also meet recovering addicts battling similar issues, allowing you to socialize with them and build valuable bonds for life. More importantly, you can expect to learn essential coping mechanisms and survival skills to maintain a sober and fulfilling life after rehab treatment.
Our Treatment Process For Lasting Sobriety
We are a top-rated addiction treatment clinic with the best medication-assisted treatments. Our clinicians create customized recovery blueprints for each patient after examining their medical and psychiatric profiles. A tailored recovery approach helps individuals battling addiction attain lasting success with sobriety. Here's what to expect during our addiction treatment process:
We use medication-assisted treatment alongside counseling and behavioral therapies to help individuals achieve comprehensive recovery from addiction and maintain sobriety in the long term.
Some of the medication we use include Suboxone, Vivitrol, and Sublocade. These help reduce cravings, block opiate effects, and alleviate withdrawal symptoms.
Our recovery process consists of three core stages – induction, stabilization, and maintenance. In the induction phase, we establish the medication dose. During stabilization, we reduce the medication dosage enough to manage the withdrawal symptoms and help recovering addicts refrain from opioid use. The maintenance stage consists of behavioral therapies and counseling designed to help clients lead a sober life in the long term.
We are the #1 addiction rehabilitation center in TN for suboxone treatment, with the best clinical staff and a high success rate. 
What Is Suboxone?
Suboxone is a prescription medication that helps treat Opioid addiction. The two main ingredients of Suboxone are Buprenorphine and Naloxone. The combined effects of these ingredients help reduce cravings for Heroin, Codeine, Fentanyl, Oxycodone, and other addictive opioids.
Individuals undergoing treatment for Opioid addiction generally receive Suboxone during detox to manage their withdrawal symptoms. As the best addiction treatment centers, we recommend our clients continue using the medication to control cravings and withdrawal symptoms as they progress in recovery. 
It is pivotal to know that Suboxone is not a cure for Opioid addiction. It only acts as a critical component in the recovery process. Suboxone is a Schedule III controlled substance, which means it carries a moderate risk for abuse. Besides, only doctors with certifications from the Department of Health and Human Services can prescribe this drug. Hence, make sure to receive your suboxone detox treatment at a leading drug and alcohol rehab center with licensed and certified doctors.
You can finally end your ongoing search for the best addiction recovery near me. Recovery NOW is a leading rehab for substance abuse disorders specializing in MAT treatments. Please call us at 615-416-8010 to verify your insurance with us today.